32nd most powerful passport in the world, giving visa-free or visa-on-arrival entry up to 144 countries.
Step 1:
Client Assessment
Step 2:
Client On-Boarding
Step 3:
Documents Collection and Submission
Step 4:
Due Diligence Check
Step 5:
Approval and Investments
Step 6:
Issuance of Passport and Citizenship
Persons of good character with no criminal record may apply for citizenship in one of the following ways:
National Economic Fund Contribution
Single applicant: US$100,000
Applicant and spouse: US$140,000
Family of up to 4 members (dependent spouse + 2 children): US$150,000
Each additional qualifying dependent of an applicant applying with a spouse and two other qualifying dependents: US$15,000
Each additional qualifying dependent: US$25,000
A minimum investment of US$300,000 in a Government approved real estate project.
This investment must be retained for at least five years. Incidental expenses, e.g., property registration, taxes are additional.
*Additional government processing and due diligence fees apply.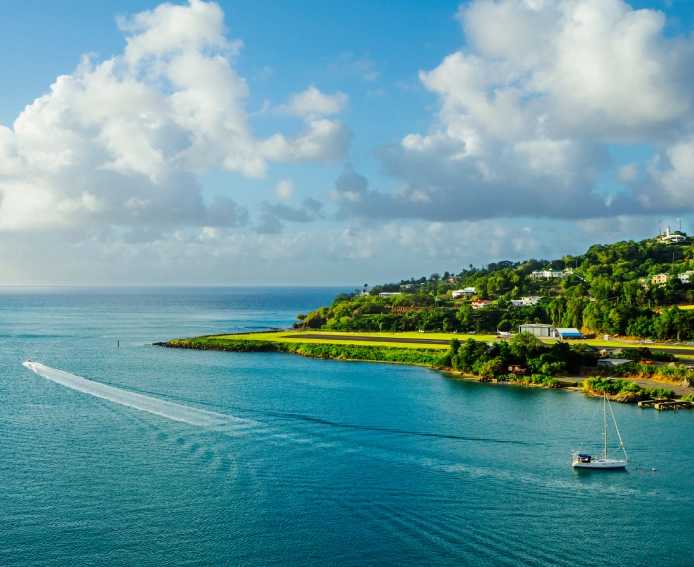 The twin peaks of the Pitons, a pair of volcanic spires that have been named a World Heritage Site, form the distinguishing feature of the landscape of St. Lucia, making it one the most scenic of the tropical paradise islands of the Caribbean.
With its acclaimed natural beauty and ideal climate, St. Lucia is definitely a tourist's paradise. It is part of the Commonwealth, and the head of state is Queen Elizabeth II.
St. Lucia has an educated workforce, and continuing infrastructure improvements have attracted investments in tourism and other industries. The offshore banking industry is another important source of revenue.
Castries, the capital, is a regular port of call for cruise liners, with its excellent natural harbor. Tourism is one of the main revenue-earners, but St. Lucia has diversified manufacturing sectors in the Caribbean.
St. Lucia is part of the British Commonwealth, and member of the United Nations, and several other organizations, including the Caribbean Community, the Association of Caribbean States, and others.
The St. Lucia Citizenship by Investment Program or CIP was launched in 2015, by an act of Parliament which passed the Citizenship by Investment Bill, making it the newest of the Caribbean CIP, benefiting from the experience of neighboring nations.
Languages: English, Patois

Currency: East Caribbean Dollars (XCD)

Exchange Rate: 1 USD = 2.7 XCD

GDP- Per Capita (2016):USD 7,744

GDP- Total (2016): USD 1.379 Billion
Do I have the option to include my family in my St. Lucia Citizenship by Investment application?
The application allows you to include qualified members of your family or add them after you have received citizenship for an additional fee. In order to qualify
…
as a family member, the applicant must have a child between 18 and 25 years of age who is enrolled in an educational institution, a spouse, and parents over 65 who are living with the applicant.  
Are interviews, language exams, or work experience necessary to qualify for St. Lucia Citizenship by Investment?
You don't need to pass any interviews, language tests, or have any prior work experience in order to apply for this program.
Do I need to travel to Saint Lucia to become a citizen?
Although it is not necessary to travel to St. Lucia in order to become a citizen, you are welcome to do so and take a look around.
Does St. Lucia issue biometric passports (ePassports)?
There isn't yet an ePassport or a biometric passport offered by St. Lucia.
In addition to the list of countries, access is subject to variations depending on the policy of each government.
145+ VISA-FREE COUNTRIES *
Subscribe to UNO Capital mailing list to
receive the latest news, notifications updates